Although the effects of Ayurvedic lifestyle choices and herbal formulations can be felt right away, it can take some time to see the changes through to completion. This timing is true both for client process as much as for the physical imbalances present in the body.
For this reason, I work with clients in packages of multiple sessions so that you can feel the satisfaction of a lasting shift in condition. I have designed the packages based on my experience working with clients over the years. Packages can be repeated for ongoing care. I may suggest additional body therapies or cleanses according to your case. 
Packages include:
Personalized herbal medicine
Meditation instruction
Ayurvedic diet plans
Thinking about signing up for a multi-session package?
First go to this page and read well for more information on taking the next step.
Want to learn more about my approach to Ayurvedic living?
Check out one of my educational products here.
Single sessions 
I will also sometimes see patients for a one-time session if you are looking for a VPK Constitutional Analysis, for a second-opinion on a situation you're experiencing, or sometimes as a prelude to a cleanse.
Cleanses
Cleanses are offered in two main ways: seasonal cleanses and the PanchaKarmas. Please contact me to discuss your case, or schedule a one-time session for my assessment of whether Pancha Karmas or a cleanse will support you best, based on your current imbalances.
Let's talk about your situation and decide together what course of action could be started. Please text me, call me or sign up for my eNews nugget. Your information will not be sold, and is used only to communicate with you about topics on Ayurveda and my practice.
Body Treatments & Therapies, Ayurveda-Style
I recommend Ayurvedic massage therapy and body treatments either within the context of Seasonal Cleanse and PanchaKarmas packages, or as a stand-alone treatment once we have started working together in a package of sessions.
The types of body treatments I might suggest include (but aren't limited to)*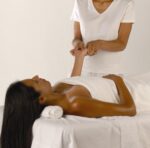 Ayurvedic oil massage – Abhyanga
Ayurvedic special materials treatments

Low back oil soak – Kati Basti
Other oil soaks – Sthanic Bastis
Medicated hot bolus application – Pinda Sweda
Ayurvedic forehead drip therapy – ShiroDhara
The body therapies are delivered by either myself or by massage therapists that I have vetted for their empathy, educational training and skill.
*Special materials treatments like ShiroDhara, Kati & Sthanic Bastis, and Pinda Sweda can be offered as stand-alone sessions following a one-time Consultation with me. If you know you need these therapies, please contact me to discuss your case.
Contagion Protocols
Consults happen over video conference software, with occasional, masked in-person exams. I provide N95 masks at the door for you. High-contact surfaces in my exam room are sanitized between patients. Similar areas in common areas of the suite that I share with a therapist and an acupuncturist are sanitized each day, with adequate time and space between people to maintain a safe physical distance, including extremely limited use of the central wait room.
You can text or call me 510-689-1041.
Or email Victoria [at] Ayurveda-Healthcare [dot] com
I will respond within 48 hours.
Thinking about signing up for a multi-session package?
First go to this page and read well for more information on taking the next step.